Saturday 1/7 - 2023
15:00 GUBB with Mathias Ståhl
16:30 Duke Ellington Sound of Love
18:00 Ellen Andrea Wang
19.30 Christina von Bülow / Claes Janson 
21.00 Sandviken Big Band with Bengan Jansson
22:30n Ale Möller and Knut Reiersrud
Sunday 2/7 - 2023
13.00-16.00 Varite Velociped 


Willemark / Knutsson / Öberg

"The Swedish song treasure has always been present in our music making and composing. An eternal source of inspiration. Now we want to record some of these gems in our very own way." This quote is taken from Willemark/Knutsson/Öberg and justifies the creation of the CD Svenska låtar, which borrows material from a number of well-known Swedish songwriters, including Birger Sjöberg, Evert Taube, Cornelis Vreeswijk, Eva Dahlgren, Marie Bergman and Ola Magnell.
When they write "Vårt alldeles eget sätt" (Our very own way), it contains a reasonable amount of folk music but also affirms the element of improvisation and its connection to modern jazz. A musical collective emerges where Lena Willemark's voice and violin meet Jonas Knutsson's saxophones and Mats Öberg's piano. Together they form a unique musical space where give and take between the parties becomes a matter of course.
Lena Willemark vocals and violins, Jonas Knutsson saxophones, Mats Öberg piano and harmonica.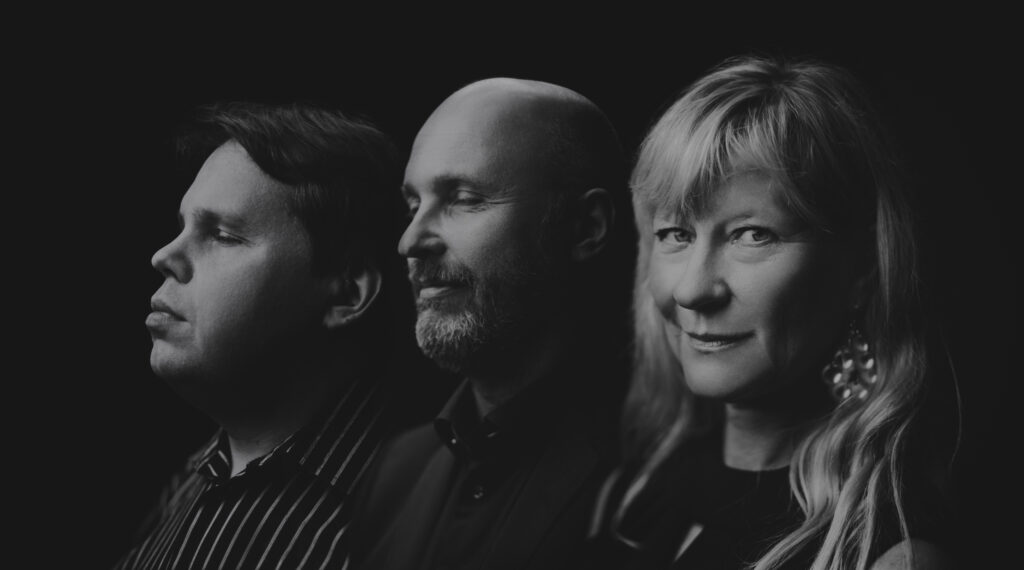 Host pair Mattias Windemo & Karolina Thorell
Kulturscen is a meeting place for different artistic expressions such as poetry, literature readings, classical music, jazz, free form, folk music, dance and visual arts.
Mattias Windemo from Sandviken is one of the foremost guitarists on the Swedish music scene. He has collaborated with musicians such as Gösta Rundqvist, Karin Krogh, Raymond Strid, Rigmor Gustafsson and others.
The poet Carolina Thorell , also from Sandviken, made her debut in 1991 with the poetry collection Blå Trampoliner. She has received awards from the Swedish Academy, Samfundet De Nio, Gefle Dagblad and Restaurang Prinsen. She is currently working on her latest poetry collection; I Varje Eld Såg Jag Ett Grässtrå.
Guest Tobias Wiklund is one of the fastest growing names on the European jazz scene. Tobias has the cornet as his main instrument, which contributes to a sound that reminds us of the roots of jazz in the form of King Oliver and Louis Armstrong. Arne Johnsson, who with his 14 published poetry collections is one of our foremost poets, will also participate in the poetry section, as will jazz bassist Pär-Ola Landin.
Mattias Windemo guitar, Carolina Thorell poetry, Tobias Wiklund trumpet, Arne Johnsson poetry, Pär-Ola Landin bass.
After Work in the food tent
SCBB is a 9-piece band from Sandviken that has been playing together for over three decades. Their music and energetic, fast-paced stage shows are inspired by the movie about, and the records of, The Blues Brothers. The tight and cohesive band always performs in black hats, suits and sunglasses. SCBB performs their own interpretations of soul, rhythm'n'blues, pop, blues and rock classics mixed with their own songs. SCBB has been known to give it their all during their explosive shows, which usually results in both the band and the audience being sweaty and satisfied after the last encore.
Fredrik Björk vocals/mouthpiece. Jan Axelsson keyboard/guitar/arrangements.Nenne Berglund guitar/bass/vocals. Jonas Björk trombone/vocals. Tobias Engström trumpet. Magnus Mellberg trumpet/vocals. Lars Jungefors saxophone, Patrik Zakrisson bass/guitar/vocals.. Mats Hillström drums.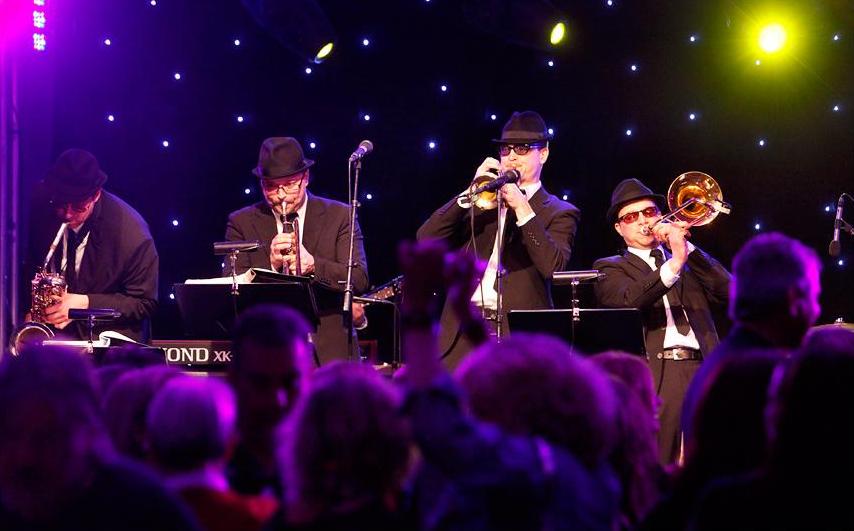 Sandviken Big Band with Gunnar's Angels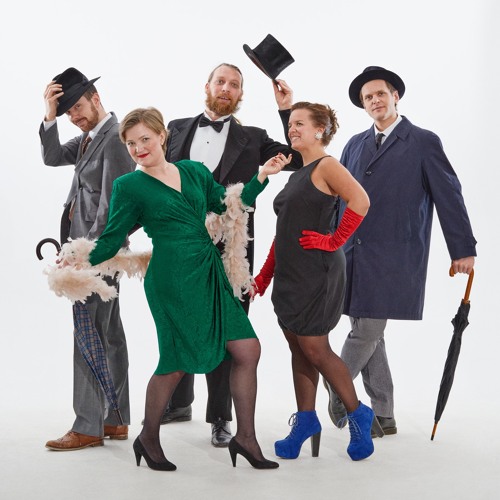 The Jazz & Blues Festival Bangen started in 1991 and the reason for that is the Sandviken Big Band. The band already had a good organization and an extensive activity and that's the way it is. Now we look forward to festival no. 32 and Sandviken Big Band opens the festival as usual, this time together with the singing group Gunnars Änglar. The concert is a great tribute to the fantastic singing group GALS & PALS who had their heyday in the 80s.

In 1984 and -85 Sandviken Big Band had the privilege and joy of touring with this fantastic singing group. Members of the group were on the women's side Lena Willemark, Monika Dominiqe and Kerstin Bagge and the men Svante Thuresson, the group's conductor, founder and organizer Lasse Bagge and Bosse Andersson.
Now, with the help of Carl Bagge, Lars Bagge's son, we have managed to collect some of the old repertoire and also supplemented what was missing. We have also found a singing group that really can and wants to take on the challenge of performing these earrings together with SBB, namely Gunnars Änglar.
Anna-Karin Westerlund, Lisa Björänge, Maria Holmström, Jacob Alm and Martin Åsander.
SBB: Saxophones: Patrik Engelbert, Patric Lundstedt, Adam Dahlberg, Krister Andersson, Tommie Floreus. Trumpets: Mats Siggstedt, Aron Holmestrand, Anders Selgeryd, Leif Fernqvist, Anders Wimark. Trombones: Per Westblom, Leif Wennberg, Björn Ågren, Krister Pettersson. Piano: Thomas Jutterström Bass: Rasmus Diamant. Drums: Christian Nilsson.
Orchestra leader: Åke Björänge.
SH7 is one of Scandinavia's finest swing ensembles. The septet has in recent years, with its elegant arrangements and irresistible swing, captivated both concert audiences and dancers in Sweden and internationally. The group consists of some of the younger generation's most exciting soloists as well as more established musicians on the Swedish jazz scene. With a special focus on Duke Ellington's music, SH7 also offers other immortal jazz classics in their own arrangements. Don't miss a concert filled to the brim with the joy of playing and really swinging jazz at its best! 
Erik Tengholm trumpet, Axel Mårdsjö alto/baritone saxophone, Linus Lindholm tenor saxophone/clarinet, Hampus Adami trombone, Pål Nyberg guitar, Jon Henriksson bass, Jonas Bäckman drums.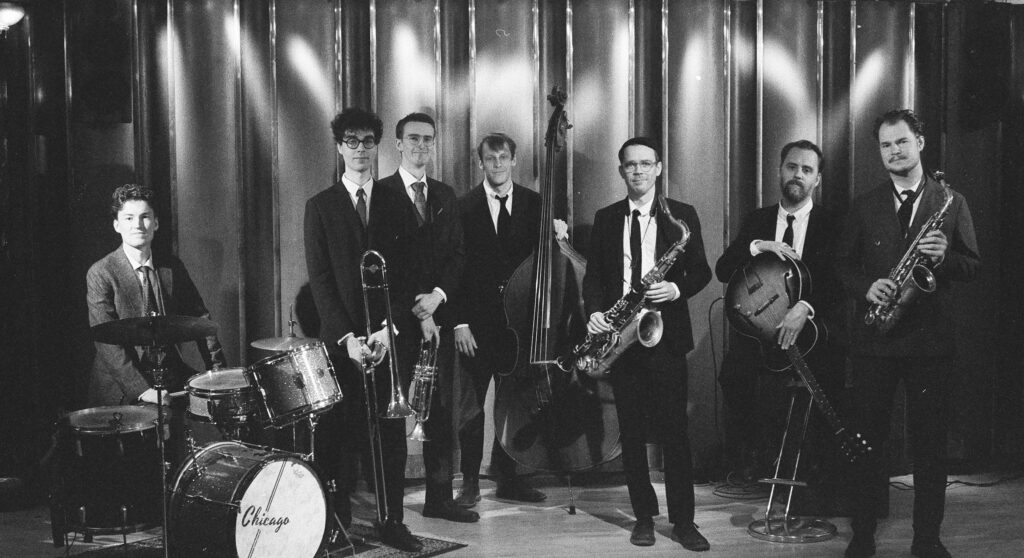 In less than two years, The Blue Benders have established themselves in Blues Sweden, not only as the new young blues hope, but also as a perfect, frustrating blues machine with a sound and swing that makes any old blues fox fade away. That the front trio's 18-19 year olds can deliver at this level is "unnecessarily good" as Roffe Wikström put it after they shared an evening with him in Gothenburg in December 21.
The band was awarded Newcomer of the Year 2022 in Bluespodden's annual vote. Others in the band were nominated in several categories in the same vote in both 2021 and 2022.
Edvin Öström guitar, Samson Mirro (grandson of Eric Bibb) vocals, Morris Malek Andersson guitar, Johan Sund bass, Oskar Boså drums.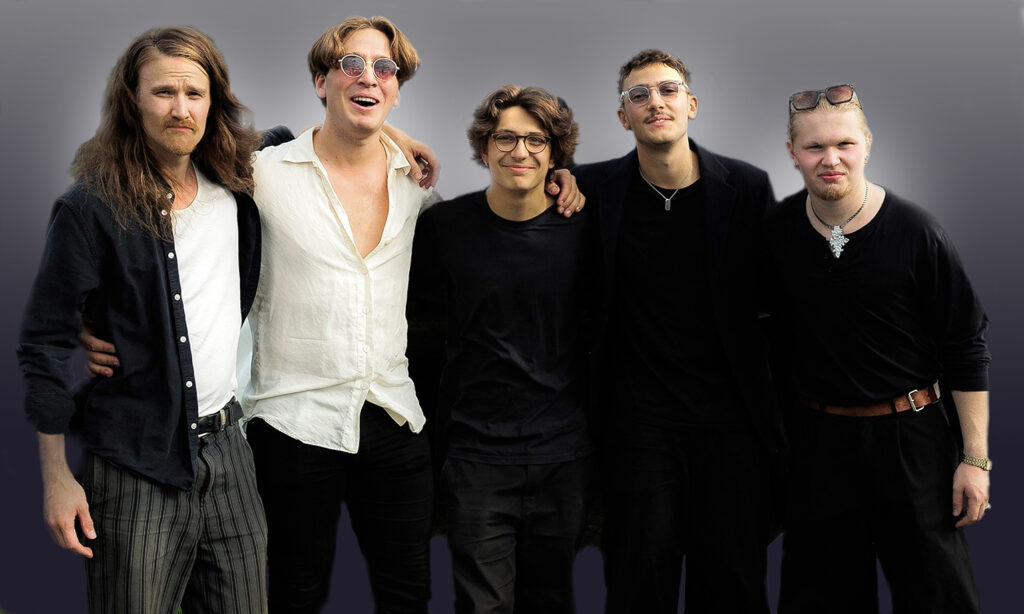 Eric Gadd debuted with the album Hello! in 1987 and has released classics such as Bara Himlen Ser På, Do You Believe in Me, Why Don't You, Why Don't I and Vi Kommer Aldrig att Förlora. He has won three Grammy awards and sold double and triple gold and platinum records. In the fall of 2022, he released the album "Vykort från 2000-talet" - where eight never-before-released songs and five songs from his previous albums shine together.
In addition to his love of music, Eric Gadd has found a home in a gastronomic interest. In recent years he has won the Mästerkocken VIP, launched his first wine and is working on a cookbook with Erik Videgård.
Eric Gadd vocals, Daniel Fridell keyboard, Calle von Schoenberg guitar and keyboard. Sven Lindvall bass, Martin Jonsson drums.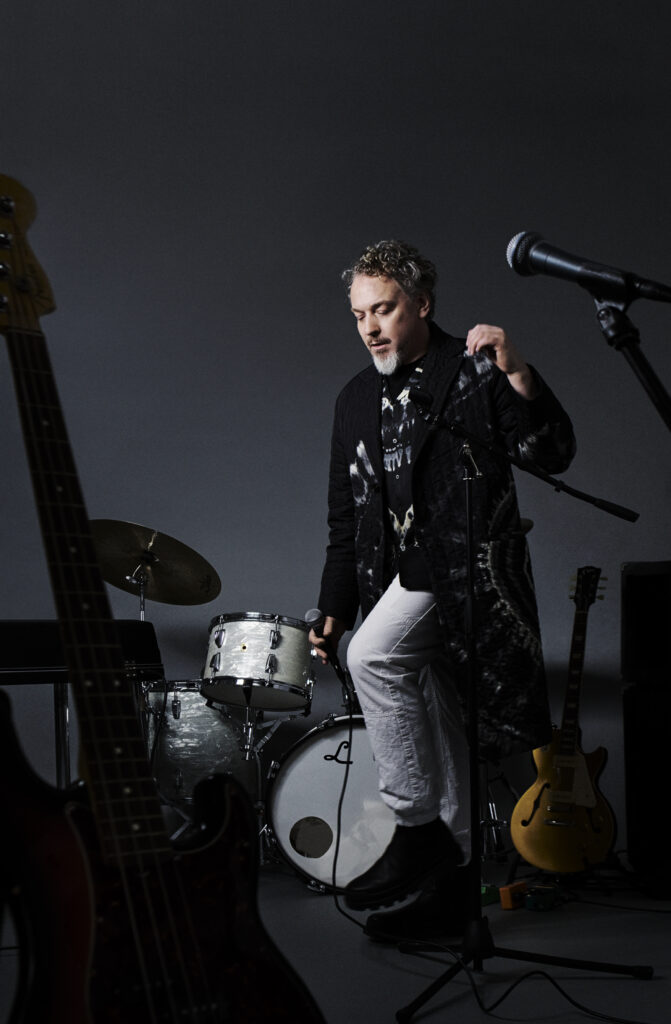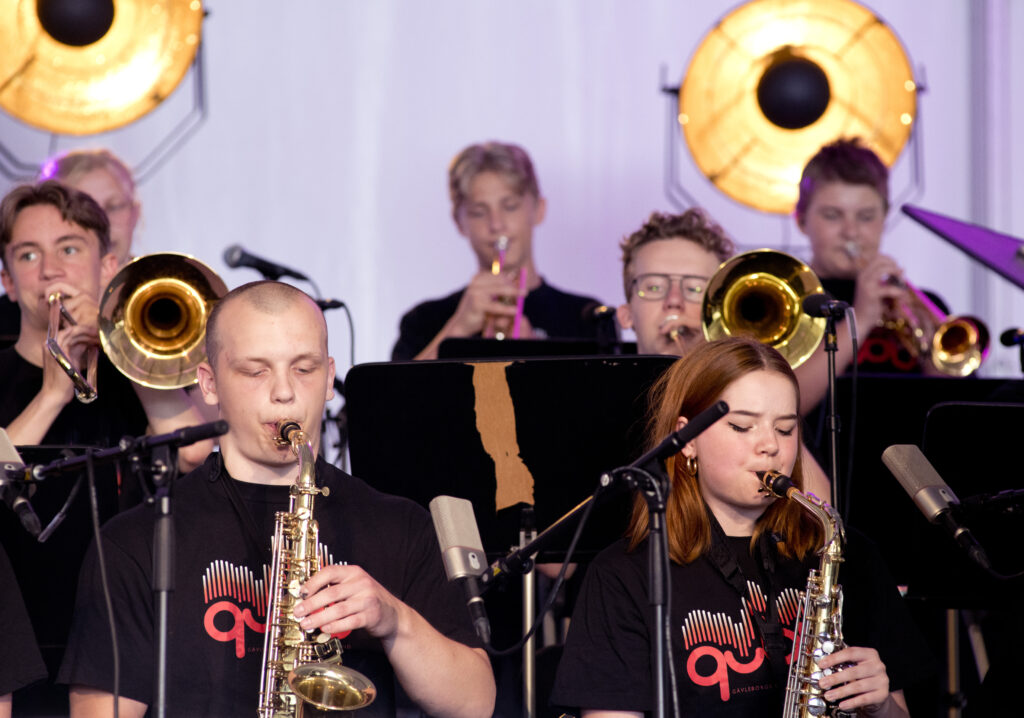 Gävleborgs Ungdoms Big Band, which this year celebrates 30 years, opens the Saturday program in the festival tent, this time together with vibraphonist Mattias Ståhl. The repertoire includes compositions by Mattias and is arranged by Göran Berencreutz especially for this concert.
Mattias Ståhl vibraphone. Saxophones: Linus Gaddenius, Peter Flamborg, Bella Parneborg, Jonatan Holmberg, Alvin Sjöberg, Johannes Hjärne. Trombones: Staffan Holmberg, Vilgot Eklund, Hulda Eklund, Edvin Kastemyr. Trumpets: Pelle Larsson, Cornelia Lundstedt, Linnea Fredholm, Svante Peterson. Piano: Smilla Persson-Åskog. Guitar: Hannes Boman. Bass: Gösta Söderström. Drums/vibraphone: Gustav Hansson and Hjalmar Timan Olofsson
Directors: Göran Berencreutz and Mathias Dahl. Producer: Lotta Hellsten. 
 Mattias Ståhl visits Gävleborg's greatness GUBB!
Mattias is undoubtedly the country's most sought-after vibraphonist, and in recent years has made a duo album with Georg Riedel (they played together on Bangen 2022) and also helped win two "Gyllene skivan" awards with Per Texas Johansson's last two albums. His favorite project is his own group Ståhl's trio, which has released three albums on Jonas Kullhammar's Moserobie label.
"Mattias Ståhl has strongly contributed to renewing and revitalizing vibraphone playing. He has a daring and unconventional approach to the instrument... which stands out in an exciting and creative way...."
The Orchestra Journal
Duke Ellington Sound of Love
Duke Ellington's Sound of Love is a band that plays music based on the work of legendary jazz musician and composer Duke Ellington. Inspired by traditional jazz, the songs are performed in their own style with new arrangements. The repertoire includes songs like 'It Don't Mean a Thing', 'In a Sentimental Mood' and of course 'Duke Ellington's Sound of Love'. The band, which was formed at Skurup Folk High School and consists of six young musicians from different parts of Sweden and Denmark, promises great feeling, swing and joy on stage.
Elvira Lundstedt is a young student jazz singer from Sandviken. Elvira has a unique stage presence and charisma. She has previously studied jazz at Bollnäs Folkhögskola's jazz line and is currently studying at the jazz line at Skurups Folkhögskola. She has been seen at Katalin And All That Jazz, Bangen 2019 and 2022, packed Sandviken Jazz Club, Utopia, Norrtälje Jazz Festival, Sundsvall Jazz Club, Bollnäs Jazz Club, Chicago Swing Dance Studio etc.
Elvira Lundstedt vocals, Teis Ortved tenor saxophone, Gustav Stefansson guitar, Arvid Bärtås piano, August Bergvall double bass, Elis Comén drums.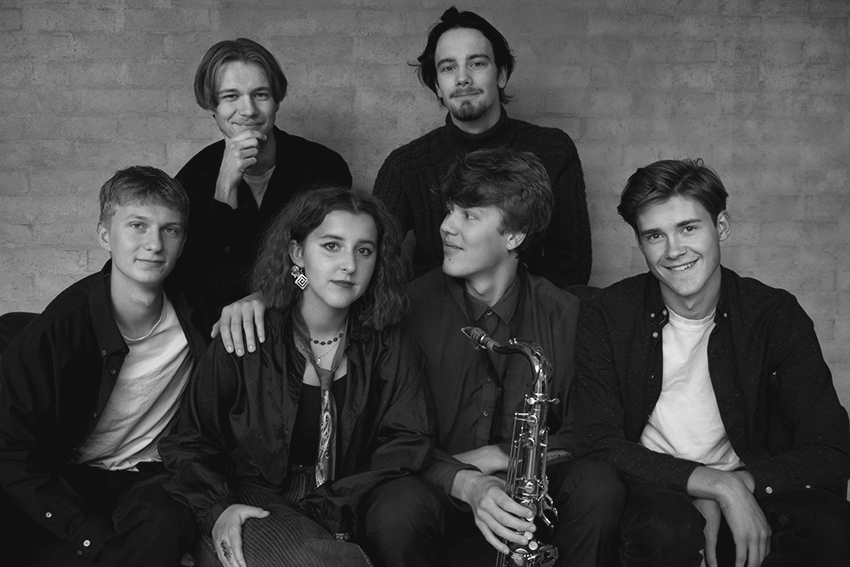 If there's anyone who has emphatically proven that you can write hits and still have both feet in the jazz world as a bassist and vocalist, it's Ellen Andrea Wang. Ellen Andrea Wang. She has a unique sound that is vital, captivating and melodic. With her cross-genre expression, she has distinguished herself as an inventive artist who blends styles in a unique way. From collaborating with Sting, Manu Katché and Marilyn Mazur, performing with the Norwegian fiddling award-winning group GURLS, to her own projects like Pixel and the Ellen Andrea Wang Trio, Wang consistently pays tribute to tasteful jazz and pop but in new creative ways. Her music balances the groove and the lyrical with the acoustic and electric, resulting in a uniquely modern sound.
Here we find Wang together with the British starlet Rob Luft on guitar and the now very merited Sandviken-born Jon Fält on guitar. Jon Fält on drums. The interaction between the musicians is distinctive and they approach each song with great patience and care.
Ellen Andrea Wang was Artist in Residence at Molde International Jazz Festival 2021.
Ellen Andrea Wang double bass and vocals, Rob Luft guitar, Jon Fält drums
Christina von Bülow and Claes Janson
Although Christina von Bülow is an instrumentalist, she has always thought of herself as a kind of singer who 'sings' through the saxophone. Her love for the Swedish language and Swedish music is great, and this is one of the reasons why the texts of the poetic, thoughtful poems of the Finnish-Swedish poet Åke Grandell have spoken so strongly to her. The content and mood of the poems led the way in composition. In the melodies and arrangements, she has also drawn inspiration from the Swedish singing tradition in everything from Bellman to Georg Riedel, Cornelis Vreeswijk and Jan Johansson. The result is a collection of versatile songs with roots in folk music, jazz and bossa nova.
Her mind immediately fell on Claes Janson as the obvious choice to perform her melodies. Claes, born in 1947, is a folk institution who has been a highly regarded voice in Swedish music for more than 50 years as a jazz, blues and show singer. His deep, warm voice and immediate, natural and moving interpretations get under the skin of the listener. With his phrasing, emphasis and coloring of the voice, he can give the words a special meaning that touches.
Claes Janson vocals, Christina von Bülow saxophone and flute, Steen Rasmussen piano, Pelle von Bülow guitar, Jon Henriksson bass, Frands Rifbjerg drums.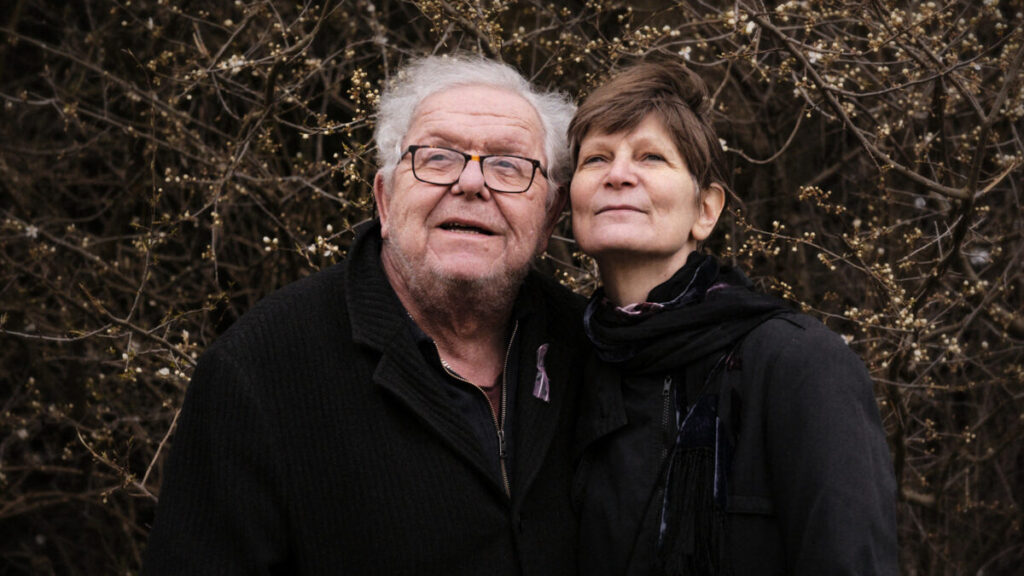 Sandviken Big Band with Bengan Janson
Sandviken Big Band with accordion you ask! SBB and Bengan Jansson have collaborated on stage before with a fantastic result. The combination of accordion and big band is perhaps not what you listen to every day, but at Bangen you now have the chance. The repertoire beats everything with a content of interesting jazz, songs, folk music, all performed with skill and with a twinkle in the eye. It is not possible to pigeonhole the happy fiddler Janson. With reckless enthusiasm, he enters the world of jazz, song, folk music and musical comedy. Through close contact with the audience and an unusual musical talent, he handles both keys and audience in a remarkably light-hearted and talented way. He spices all this up with stories from life both behind and in front of the stage from a career spanning more than 30 years.

Bengan Janson accordion, Saxophones: Patrik Engelbert, Patric Lundstedt, Adam Dahlberg, Krister Andersson, Tommie Floreus. Trumpets: Mats Siggstedt, Aron Holmestrand, Anders Selgeryd, Leif Fernqvist, Anders Wimark. Trombones: Per Westblom, Leif Wennberg, Björn Ågren, Krister Pettersson. Piano: Thomas Jutterström Bass: Rasmus Diamant. Drums: Christian Nilsson.
Orchestra leader: Krister Pettersson.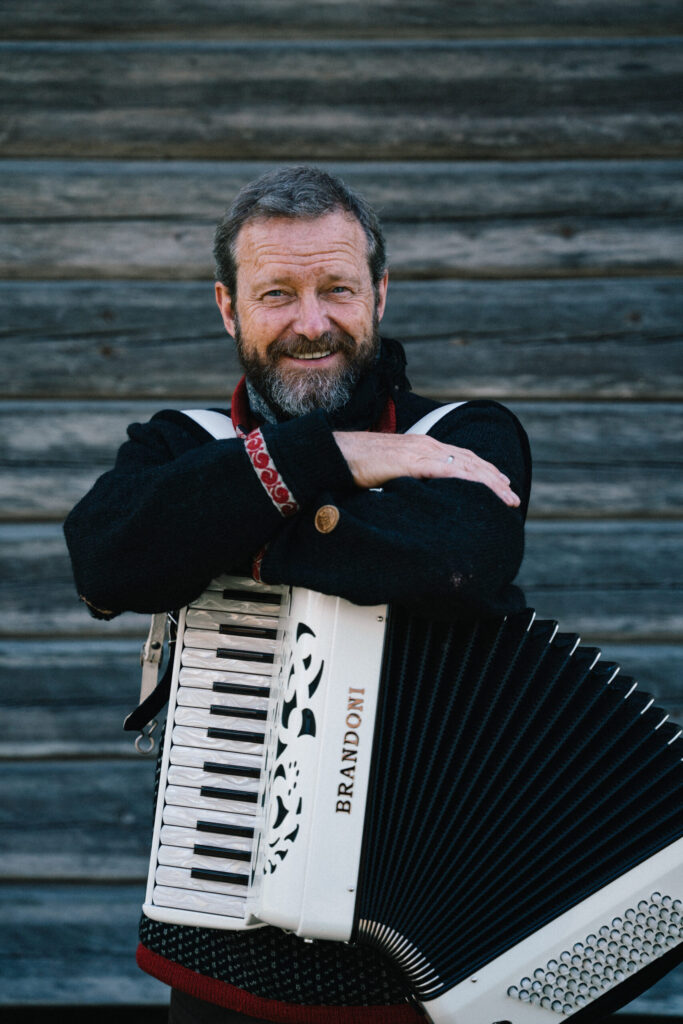 Ale Möller / Knut Reiersrud
Ale Möller is a multi-instrumentalist who plays a wide variety of instruments, ranging from mandola and accordion to flute, shellmeja and cow horn. But above all, Ale Möller is a musician who works his way into the source code of the traditional music he encounters, be it a Greek rembetiko or a stubborn Swedish polska. Ale is an internationally acclaimed artist with star status not only in Sweden but also on major festival stages around the world. Multiple Grammy winner, certified legend and professor. It started with a trumpet and a youthful love affair with jazz. It continued in a hot love affair with Greek music and then a deep adult relationship with Swedish folk music.
Knut Reiersrud is a Norwegian blues guitarist. His work also includes elements of Norwegian traditional music and African music. Reiersrud has recorded and performed with David Lindley, the Blind Boys Of Alabama, Rickie Lee Jones, Nina Hagen and Swedish blues musician Sven Zetterberg.
Children's dance with Varieté Velociped 
The day starts as a taster day for children of all ages. Try drums with Olle Tjern, guitars with Kråkan (Anders Ågren), singing, face painting, dancing, arts and crafts, etc. The day ends with a fantastic musical performance with Varieté Velociped . A performance with Varieté Velociped is a strange meeting between people of all ages where sweet music arises in the most unexpected ways and where both the masterpieces of classical music and more modern rhythms bubble up in the most surprising ways.
Erik Petersen is an entertainer and multi-musician who can make anything sound like good music. How about Brahms on a bicycle, Bach on wine glasses, Paganini for violin solo and garden chair, Czardas on long johns and Petersen songs in the lovely crazy tradition.
Erik Petersen has also composed a Scrap Symphony for scrap and symphony orchestra. The work has been a success in several countries with the composer himself as the scrap soloist.
The co-musicians in Varieté Velociped are Bengt Johansson - a captivating, colorful musician with the Renaissance wind instrument as his main compartment but with many surprising sidelines - and Svante Drake, who has aroused wide-eyed amazement around the world as a mouth drummer. In addition to his innovative beatbox, he also offers many other sonic surprises.